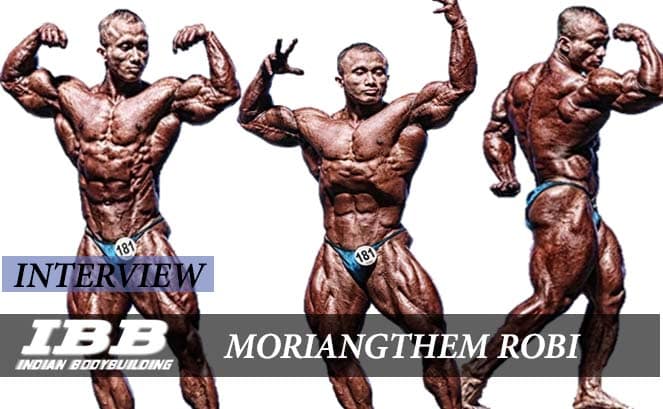 Success and fame is not reserved only for the rich and the privileged. It comes knocking on the doors of people who are earnest, honest, hardworking and determined in achieving their goal. Such is the journey of this bodybuilder who grew up in a small town in Assam but went on to become a medallist at Olympia. We got a chance to get one on one with Moriangthem Robi Meitie who made history by winning Silver at Amateur Mr. Olympia 2016. Born to a small town government servant, Robi today enjoys a global recognition when it comes to bodybuilding. Today, we bring to you his story, his struggles and his glory, in his own words. Read through not just for information but for inspiration.   
What is your success story? How did you enter into bodybuilding?
Although my native is Imphal, Manipur, I was born and brought up in Karimganj in Assam. It is a small place adjacent to Bangladesh Border. Even though my father works with Assam government's agriculture department, I took up bodybuilding due to two main reasons.
First was that a lot of my cousins and relatives were actually national and international level athletes, in various sports. So whenever I used to visit Imphal, I would find my cousins working out at home with simple self-made equipment. Hence, I started lifting weights in my own ways at a very young age. I used to fill oil containers with stones, bricks, water, sand etc. and lift them. This was long before I joined Taekwondo.
Second and probably the more vital reason for me to take up sport is that I have spent most of my childhood being sick and weak. The pace where I grew up was dominated by cricket; a sport which I neither understood nor could be a part of due to my ill-health. Hence, everyone around used to mock me and criticize me. Eventually all the mockery started affecting me emotionally and one day I decided that I will take up a sport and excel in it. That was when I took up Taekwondo. Now to my great luck, my Taekwondo master also owned a gym. So I started gyming in the name of learning Taekwondo.
Gradually, I moved to Meghalaya for higher studies and I joined a local gym there. A few of my friends started motivating me that when I have a great physique, why don't I compete. Finally in 2010, I participated in an event there and I got 5th in my category.
This was the start of my bodybuilding journey. From there on, I participated in several events and finally became a Silver medal winner at Amateur Olympia.
Who has been your coach and how did he help you so far?
I believe that there is no perfect teacher or a perfect student. You can learn anything from anyone around you who is willing to teach. Be it Assam or Meghalaya, there were proper trainers or experts who could give you knowledge about nutrition and supplements. So I was never confined to a trainer or coach for learning.  
The first time I had someone whom I could call a trainer was when I had joined the institution gym in Meghalaya. Mr. Suresh Pradhan was the trainer there. However, I still could not get knowledge on professional bodybuilding. Hence, I kept looking for someone who could help me out. Then I came across a senior who was into this profession. He taught me a lot about supplements and diet. I used to follow every possible advice that he gave me. He prepared me for full 4 months and after this I participated in Meghalaya State Championship and won the overall title there.
Now in Indian Navy, Sir E.J Byju is my coach and he is like a father to me. He gives me all the support, encouragement and motivation that I need.
I am glad that I have got such supportive friends and seniors who have taught me so much in life. I also love doing my own research. I read a lot on bodybuilding, nutrition and try to make up my own work out plans and diet.
What are your achievements so far?
My first event was way back in 2010 where I ranked 5th in my category. Since, then I have come a long way. Some of my big achievements are:
| | | |
| --- | --- | --- |
| Event | Year | Medal |
| Mr. Iron Man | 2011 | Overall Title (65 kg) |
| Mr. Meghalaya | 2011 | Overall Title (65 kg) |
| Mr. Meghalaya | 2012 | Overall Title (70 kg) |
| Mr. Assam | 2012 | Overall Title |
| Mr. Assam | 2013 | Overall Title |
| IBBF Junior Mr. India | 2014 | Bronze (75 kg) |
| Mr. Assam | 2014 | Overall Title |
| WBPF World Championship | 2014 | Fifth Position |
| WBPF Asian Championship | 2015 | Gold |
| IBBF Mr. India | 2015 | Fourth Position |
| WBPF World Championship | 2015 | Gold (75 kg) |
| Amateur Mr. Olympia | 2016 | Silver |
Apart from these I have participated in several eastern, north eastern and national championships.
How does your typical day flow in terms of diet, workout, rest, supplements?
My day starts with half a litre of water as it kick starts your metabolism, I read about it. For breakfast, I have daliya, poha or oats and even fruits and Whey. My meal includes chicken or fish and rice.
2-3 hours later, I hit the gym. I do not have pre-work out drinks. Instead, I have coffee and bananas to get good calories. After working out, I have a post work out shake. During off season i.e. the gaining phase, my post workout meal includes bananas, oats, weight gainers etc. On season, I replace bananas with citrus and anti-oxidant rich frits and weight gainers with protein powder. In the next one to one and half hour, I have chicken and rice. And then, I got to sleep. I take a one hour nap in the afternoon.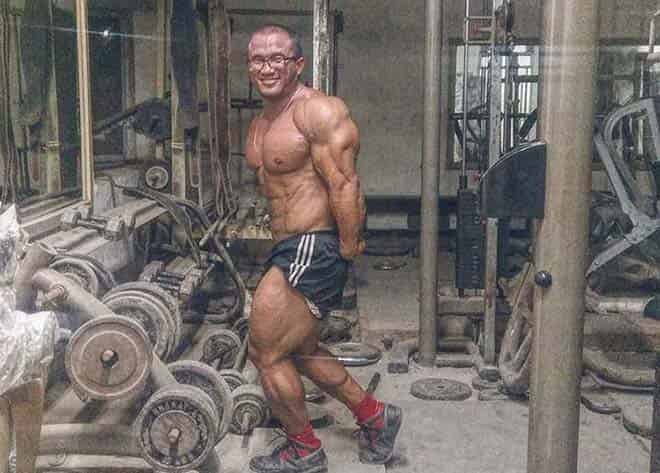 After waking up, I have a protein shake followed by a meal that includes simple rice, chicken legs and fruits/juice. Then I run for my evening workout. I take coffee and amino acids as pre-workout and a protein shake after workout. An hour later, I have my dinner that includes chicken or beef and rice.
Talking about supplements, I do not have glutamine and BCAAs. Glutamine is naturally obtained from the diet abundantly. So I don't prefer loading my body with more of it.
To be very frank, I am still learning. I have created my own routine relying on what I read and learn and after understanding my body needs. My ground rule is to take 70% of my calories from carbs and remaining 30% from protein during off season while in on-season it becomes vice versa. Also, since, I do not have eggs at all; I rely on milk, meat, chicken and fish for my protein intake.
So based on my learning and observations, I keep modifying my diet and workout patterns.   
How has your bodybuilding association helped you so far?
When I started bodybuilding I had no idea what bodybuilding federations and associations are.  It was after I came to Mumbai, I found out about Indian Navy and now I work with them and therefore I am associated with IBBF (Indian Bodybuilding Federation). Now, since Amateur Olympia I am with IBBFF (Indian Bodybuilding and Fitness Federation) as it provides us with an opportunity to compete at International events such as Arnold Classic and Olympia. IBBFF Officials have helped me prepare and compete for big events. Both the federations have played an important role in bringing me where I am. They have given the platform through which i was able to showcase my talent and still continue to do so. However, if you ask me about monetary help then, I would just say that 90% of my expenses have been borne by my family.
All my life, I have lived in a rented apartment. My dad used to pour in most of his income for my dream. My mother even my younger brother, they have all sacrificed a lot for me. I can't put it in words, what they have gone through. It used to hurt me to see all this but I kept telling myself to never give up after all they have done for me.
I am also fortunate enough to have friends and colleagues who have helped me in different phases of my life and career. Around 2011-2012, I started working at a local hotel and the owner, who was also a bodybuilder, had a gym. He let me use the gym for free for almost 2 years. He never asked for any fees nor he accepted any if I tried to pay. He even used to support me with chicken, eggs (back then I used to have eggs) and even some supplements for pre-contest training.
I am a part of Indian Navy now and I get a lot of support and motivation here. I can never thank Romi Singh enough who told me about Indian Navy and inspired me to get here. My team mates, especially Vipin Peter, who teach me a lot and help me in more than just one way. Even my coach is a great support and motivation.   
Now my parents are getting older, my dad is going to retire next year, I have a younger brother too plus I have to take my bodybuilding career ahead. So yeah things are looking really tough for me but I am determined to never give up.
I do expect the federations to support not just me but all those athletes who struggle and suffer each day to make India proud and raise our flag on international platforms.
How is your workout throughout the week?
I work out twice a day, 6 days a week. Since, we all use the same gym; we get limited time to work out.  So my session lasts for 45 minutes, sometimes more. Depends how many equipment are available. I hit the gym by around 9 or 10 am in the morning. During off season, I mostly focus on one muscle group at a time.
| | |
| --- | --- |
| Session | Muscle Group |
| First | Chest |
| Second | Deltoid and Side Laterals |
| Third | Back |
| Fourth | Thighs |
| Fifth | Arms |
I take a gap of one day after my arms workout and then repeat the sessions. In on-season, I increase the intensity of my workout. I do not go for text book methods. I change the variation in my workout every week. I use my own judgement to determine which muscle I should take up and how much I should work out on it.
How you prepared for Mr. Amateur Olympia competition?
I actually had a very bad habit of going for cheat meals in my off season. So I used to gain unhealthy weight, and lose my form and then again I had to train and spend money to get back in shape. So after Asian Games, I decided to go for a clean off-season. I followed a good diet and even worked out and hence, my form was good even after the event.
Then one day, my coach called me and said that I need to go for Olympia. I was stunned after hearing this. I thought he was joking. I mean, Olympia is a bodybuilder's dream and that golden opportunity came to me on its own.
I started preparing for it. I followed a great diet and worked hard for months. I could not sleep in the night. So even in the night I used to exercise. Even when I was not working out, I used to walk or climb stairs, jog; I simply wanted to keep my body in its optimum state. I restricted my meals to chicken and vegetables. I participated and luckily, won!
Would you like to talk about IBB?
The thing that impressed me the most about IBB is that it brings together different bodybuilding and fitness styles together without any emphasis on federations. There is so much that one can learn from this website. I will definitely tell my mates about this website.
Also, people see the medals but no one wishes or cares to see what the athlete has gone through to win that medal. His struggles and his suffering go unheard. Hence, I am thankful to IBB for letting me share my story, I hope it inspires and motivates others.
This was our humble discussion with the man of Silver. Robi has fought all the odds to reach where he is and to be frank, his battle is far from being over. We salute his courage, his determination and wish that he brings more laurels to his family and this nation.