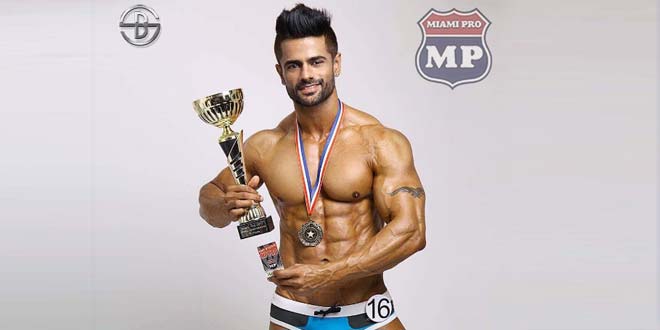 Indian athletes are more determined than ever to give this profession its due stature in the country. More and more athletes are stepping onto the stage to show the world what Indian athletes can do. In this conversation we introduce you to a pune based software engineer, Ashwani Duhan, who has emerged as the new Miami Pro. With this applaudable victory, Ashwani has gained recognition in the international bodybuilding fraternity. He won first place in the 75 Kg Category which was one of the toughest weight group to be in. Here is our exclusive interview with Ashwani.
Tell us more about Miami championship and what Miami Pro is all about?
Well, if you see the world champions in any country, most of them were discovered on this platform. This is the significance of Miami Pro. The whole of Europe and US keeps an eye on this event. It is very popular as the Pro athletes from here travel and compete all across Europe and US.  Now that I– have won Miami Pro, I have got that visibility. I also got a fitness shoot with Simon Barnes who is one of the most reputed photographer in UK. This photoshoot was a part of the winner's prize  for me. Here is one of the photo of me shot by Simon Barnes.
I have also been interviewed by a UK channel (Fit Media Channel) around two days back. It will be aired shortly.
Here is the video shoot of Ashwani Duhan on Fit Media Channel which also provide some great video on athletes and events.
What's your success story? How did you become a Miami pro?
I was always a sportsperson. There was a very popular movie starring Sylvester Stallone, The Rocky. This movie inspired me and I started working out. I was in 8
I used to stay away from home as my engineering college was in Delhi NCR. One of my cousins used to stay there and that cousin had a passion for bodybuilding. So even I started going to the gym with him. I also started doing modelling shows there while I was studying there.
However, soon I completed my degree and was as usual, expected to take up a job. So I started working and for the next 2 to 3 years, I could not keep up with my fitness goals. You know, it is difficult to get time. I had just completed college and moved to a corporate world where I was working for 8 to 9 hours a day, that rarely gives you time.
Then I moved to Pune and joined an IT firm called Veritas. The work culture over here is really great and I was able to strike a work-life balance. I could work from home if I wanted to. Achieve my weekly goals over the weekends, if not weekdays. I got a lot of flexibility here. So last to last year, I finally decided to do something about my bodybuilding passion. 
Now with a Miami Pro win, I will get access to European counterparts, their sponsors, their events, magazine covers etc. So I am hoping that you guys will see me soon there.
What have been your achievements so far when it comes to bodybuilding?
My first ever contest was Body Power 2016. I finished as a finalist there. This year is being very busy for me. I have been on stage for Jerai Regional Tour and Body Power Regional Tour. Then I participated and won Mr. Delhi contest.
This victory gave me an entry into the National team where I contested for Senior Mr. India in Gurgaon but could not make it to top 5 as I was pretty new and did not have that recognition to back my performance. So, yeah, Miami Pro is the biggest achievement for me.
I have entered this profession just 2 years back. You require a lot of resources and time to get your body in shape for a performance. Also, the bodybuilding events here have sponsors who invest their money into the event and their respective athletes are the pre-decided winners, in most cases. This is what I wanted to see for myself. Whether this practise is everywhere or just in India. Hence, I went for Miami Pro.
I had secured a UK visa in the past so it was easy for me to get a visa again. Also, I had recently participated in Mr. India, so I was ready for another event. So I followed the process, went there and participated and gladly, I won.
Who has been your trainer and how did he help you so far?
Well, genuinely I didn't have a trainer as such. I am more like self trained. You talk to people who know about this filed, you talk to your seniors and then take their advise and work on them. So, yes, I am a self made athlete.
Who plans your diet and how and what are the food items you majorly include in your diet?
I plan my own diet. The training is divided into on-season or pre contest training and off-season training. So as the training changes the diet changes too. In off-season my diet includes more of carbs and good amount of protein. This is the gaining phase; you bulk up yourself to increase your muscle. I also supplement myself with creatinine, glutamine and bcaa to allow my muscles to grow.
Around three months before the contest, I start reducing the carbs and start increasing the protein content. So my source of energy becomes more protein oriented.
I mostly include oats, brown rice, and broccoli in my diet. Since vegetables are good for digestion, I always take them boiled. I have chicken for protein as well as other protein supplements. Also for my recovery, I take glutamine and other supplements.  
How do you plan your supplements?
I follow 6-meal plan and pitch in the supplements in between. I also take RiteBite protein bars as a supplement and meal replacement. Morning for me is more of carbs and evening is protein rich.
You mentioned about Rite bite, what are the Rite bite products you take and how do they help?
Ritebite's new professional series of bars is my favourite. You get 30 grams of protein with healthy carbs. I mean what do you get for Rs. 150 outside? You get very little nutritive value. But at the same price, these protein bars give me a good amount of nutrition especially protein.
Secondly, you need to know how much protein you are consuming. Even if I take chicken, I have to calculate how much protein I would get from 500 grams of chicken etc. With these protein bars, it is so easy to keep a check on the protein content. I know exactly how much protein and carbs are there in each bar since the nutritional content is mentioned on them. I include them in my diet. Usually, I take them towards the evening as that is when I need more protein.
Most importantly, I have it around the contest and on the day of contest. Since, you do not need to mix it water or milk before having it; it does not cause any bloating. So I carry it with me on contest days as well. For Miami Pro, I carried around 20 bars and had 2 to 3 bars every day. I was travelling in a foreign country and had to ensure that my diet was taken care off. RiteBite bars are convenient as well as nutritious. They do come handy when you are on your travel.
How do you plan your workout for the week?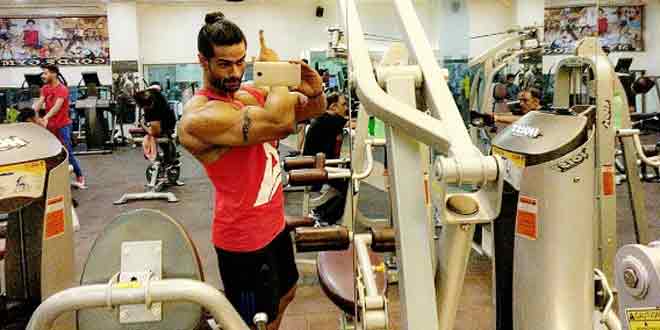 I work out 5 to 6 days a week and start my workout everyday with abs. Then I switch to the other muscle groups. When you work on biceps, shoulders and back, your core is already stressed. It is then difficult to focus on abs. This is why I start my workout with abs and then take up other muscle groups.
So, Monday I do legs, followed by chest, shoulder and triceps on Tuesday. Wednesday includes back and biceps. Following this regime, I workout on one muscle group twice a week.
Do you also have a cheat meal day?
I am not very calorie conscious and diet conscious during off season. I train my mind to have the things I like in limit and on certain days. My cheat meals are only for off-season. Pre-contest days, it is very important to have a great diet.
My condition was not that great during Senior Mr. India. I had completely stopped carbs and was taking boiled chicken, boiled eggs and veggies and absolutely no salt. Due to this, my body went into dehydration. The salt level went so low that the body was not retaining any water.
This is why I take care of my diet in the pre-contest days.
How does a typical day of yours flow in terms of diet, workout, rest, and supplements?
I need to take pre-workout drinks and I work out in the evening, hence, I don't get to sleep before 12 am or 1 am. I wake up around 9 am. I ensure that I get at least 8 hours of sleep. After I wake up, I have an omelette. Then I get ready for work and before leaving I take another meal probably oats. This takes care of my light meals. I also take a scoop of protein in the morning. Then, I leave for office and also carry my meal with me. It includes brown rice and chicken. Then evening I have protein bars and work out in the evening. I usually go to gym between 7 and 8pm  
Anything else that you would like to add for our readers?
I actually have a message, not just for people who workout but for all the readers. Don't get disheartened. You can be delayed even if you are good, however success will eventually come. Every unsuccessful phase prepares you for the successful phase. You always learn something. Look at the winners and learn from them. Give it what you have and keep trying.
Would you like to tell about IBB?
I am a regular reader you can say. At least once a week I check it out. I read the interviews from other athletes and it is a great to know about them.
This was our conversation with the Miami Pro. We appreciate the gesture that he halted his workout and gave us time for this interview. We wish him all the best for his upcoming endeavours and hope to see him making India proud on bigger international platforms.
You Tube Video Credit : Jeff Simpson of Fit Media Channel